Tire conservation
Tyre Preservation is a service that aims to keep tires in the condition they are in at the time of conservation. How does it happen and why do it. Tires after the season, whether summer or winter, go on a "well-deserved rest".The rest period takes about six months, and this is a decent amount of time for the following seasons, the tires would serve as faith and The truth is, they need to be taken care of. It is important to properly store tires, there is an article about this "storage of wheels", it tells in more detail about storage. The article describes in detail conservation, without which proper storage is impossible.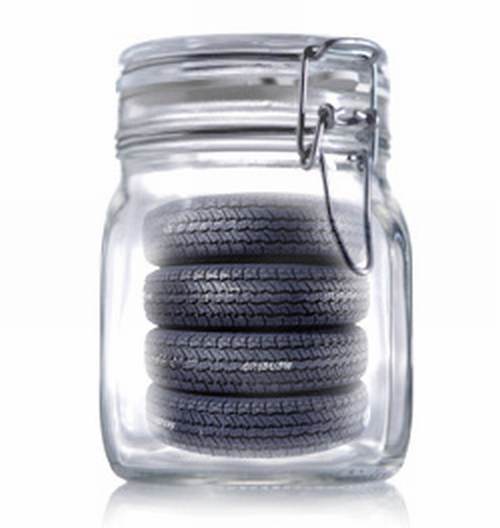 Tires come to us, as a rule, dirty. Before conservation, we carefully wash each tire, remove stones from the tread. The tires are then lightly dried and treated with a special solution. The solution is based on silicone, but the silicone itself is not a means that preserves the rubber, it improves the aesthetic appearance of the tire, which takes on the appearance of a new one. Chemicals are added to the solution that affect rubber: slows down the aging process of rubber; affects the resins and oils that are in any tire and serve to soften hard rubber at the time of creation, thereby maintaining the softness and elasticity of the tire. If the tires are "dried" due to improper storage (direct sunlight, high temperature), they will become harder than they were, and this is at least increased wear, and if it deepens, then significantly low characteristics: poor grip, increased braking distance.
After treatment with a solution, we wrap each tire in a packaging polyethylene film, which has the necessary properties for proper storage: moisture resistance, frost resistance, hygiene, and the film does not decompose under the influence of ultraviolet radiation. After these procedures, you can be sure that you won't find the best for your tires.
It is important to understand that they do not become new tires after conservation. At the same time, do not forget that a small cost of conservation prolongs not only the life of your tires, but above all, it increases your safety.
Price for tire maintenance is for 4 wheels and depends on rim size.
Select the required size to clarify the cost in the price list.
| Disk Size | Car | Car with rims | Jeep | Jeep with rims |
| --- | --- | --- | --- | --- |
| R13/14 | 250 UAH | 300 UAH | | |
| R15/16 | 250 UAH | 300 UAH | 300 UAH | 400 UAH |
| R17/18 | 250 UAH | 350 UAH | 350 UAH | 400 UAH |
| R19/20+ | 300 UAH | 350 UAH | 400 UAH | 450 UAH |